LATEST NEWS: The Gatehouse Museum is now able to welcome visitors! Currently we will be open on Wednesdays and Saturdays, from 14:00 until 16:30. In line with 'Freedom Day' on 19th July 2021, we are no longer limited on our visitor numbers, however due to size of the museum, it is requested that visitors wear a face covering over their mouth and nose. This is to continue to protect our visitors and volunteers as much as we can. We will still be routinely cleaning touch points as well. Each visitor must provide us with Track&Trace details or use the NHS Track&Trace app on their smartphones using the QR codes provided. If necessary, we may have to ask visitors to wait for a safe gap to become available to enter the Museum, and we kindly ask for your patience during busier periods.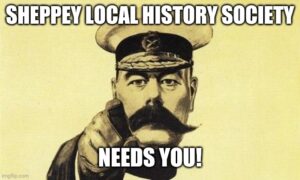 Due to the Covid 19 lockdown the Sheppey Local History Society had suspended subscriptions as we were unable to arrange our monthly meetings and Minster Abbey Gatehouse Museum had to close.
Now Lockdown is almost over meetings are beginning to be arranged and the annual "Around the Island" bus trip has been arranged for July 3rd and the Gatehouse Museum now has limited opening,
However membership subscriptions to the Sheppey Local History Society has so far not been as we would have hoped and there is a possibility that the Sheppey Local History Society could cease to exist and the Minster Abbey Gatehouse Museum may have to limit its opening permanently as subscription monies contribute towards its upkeep.
The current subscription to the Society is £10 per annum. This entitles the member to free entry to the Minster Abbey Gatehouse Museum, plus free entry to our monthly meetings. Other events are also arranged over the course of the year such as Fred Clouter's Fossil Roadshow, Halloween and Santa's Grotto. We also run visits for local school children.
Annual membership is from 1st November to 31st October but we are currently offering membership until 31st October 2022 for the same subscription price of £10.
For those of you out there who have more than a passing interest in local history and want to know more please give some thought to joining the Sheppey Local History Society.
To join the Sheppey Local History Society contact me at the Minster Abbey Gatehouse Museum, Union Road, Minster, Sheerness, Kent or on 01795 873882, or email minstergatehouse@gmail.com
SHEPPEY'S HISTORY NEEDS YOU. PLEASE HELP TO PRESERVE IT.
Thankyou
Tony Pointing
Membership Secretary
Wheels of Time news!
The Wheels of Time scheme is now online. Multiple meetings and tests have been carried out and the system is in full operation, please click here for information on how to take part in this online version of the popular scheme.
Stay Safe
Best wishes
The Gatehouse Volunteers