LATEST NEWS:
WW2 Event News
Contrary to the previous advertised date, the WW2 event will be taking place on 10th September 2022 at the Gatehouse and in the grounds of the Abbey Church Hall behind the Gatehouse.  The event will be running from 10am until 3pm, with our friends from the 3rd Para Brigade, & Home Front re-enactment group providing the entertainment and displays that were very popular last year.  Their Facebook page can be accessed via this link for more information on who they are etc.  They are a great bunch of enthusiastic people who enjoy what they do.  Below are a few photos of last year's event to whet the appetite, we look forward to seeing you this year! Entry to the museum will be at our usual low fee, however donations to the organisations involved go a long way to ensuring these type of events can continue to entertain and engage with the public.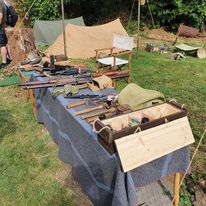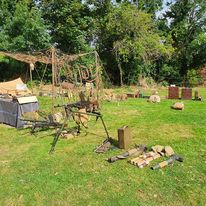 HUNT THE NUNS!!
New for 2022, we have launched our new challenge for the children to take part in! There are 8 little nuns dotted around the museum, the challenge is to find them, write down their names (pencil and clipboard are provided), then once you have all the names, their first initials will rearrange to make the name of a very important person to do with the history of the Gatehouse! This is included in the standard admission fee for children should they wish to take part.  
We are still proudly participating in the Kent based Wheels of Time scheme, with e-badges available for those wishing to explore other sites. More information on this can be seen HERE.  We look forward to seeing you!!
With the recent changes in legislation, the wearing of face coverings is no longer required in the building, however given the relatively small space we have, you are welcome to wear a face covering during your visit.  Our volunteers may or may not be wearing face coverings dependant on their choice.
If you would like to see a sneak peek of the museum, Historic Swale have kindly produced a short video that allows you to take a look.  Use this link to go to the YouTube channel and take a look at their work so far.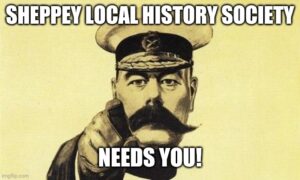 Sheppey Local History Society is always looking for new members, please click here more information!
Wheels of Time news!
The Wheels of Time scheme is now online.  Multiple meetings and tests have been carried out and the system is in full operation, please click here for information on how to take part in this online version of the popular scheme.
Stay Safe
Best wishes 
The Gatehouse Volunteers