LATEST NEWS:
Halloween and Christmas events added to the calendar!
We will be having our annual Christmas puppet show on the 9th and 16th December. The Christmas puppet show will incorporate a nativity reading and a visit from Father Christmas.  Spaces are limited, please visit the museum during our regular opening times to reserve your seats, (£3 per person), payment is required at time of booking to secure your place.
Sheppey Local History Society news
Ken Ingleton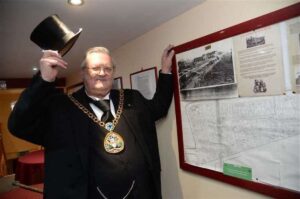 It is with great sadness that we learnt of the passing of Sheppey stalwart and respected historian, family man and councillor, Ken Ingleton.  Ken was a friend to all of those involved in the Gatehouse museum, as well as other local charitable organisations and trusts across the Island.  His funeral was held on 31st July 11am at Minster Abbey to a full church, a clear sign of the respect and friendships gained in decades of work for the community.  Our sincerest condolences go to his wife, Mick and daughter Apple, as well as all of his friends.  Thank you, Ken, your knowledge and passion will not be forgotten and your memory will live on.
We are open!
Saturdays 2pm-4.30pm, it might be a bit chilly inside (it is an old building!) so we won't be upset if you keep your coats on!  Our prices haven't changed, still a bargain at £2 per adult, £1 per child, £1.50 OAP/Concession and a family ticket for 2 adults and up to 3 children is only £5.
Touch screen interactive machine
Minster Gatehouse Museum has now taken delivery of a new state-of-the-art interactive touch screen system.  Developed for museums, this machine will enable us to be more accessible to those with mobility issues, while enabling all visitors to learn more about the history of the Abbey estate including the Gatehouse, as well as the rest of the Isle of Sheppey.  We will be working on producing content for this during the winter so that we can show it off in the new year!  If you have any photos of the Gatehouse that you have taken yourself, we would love to create a slideshow of the building through the ages, weathers and seasons, please could you forward them as JPEG files to our email minstergatehouse@gmail.com with the subject GHPIC, make sure you leave your name so that we can add it to the photo.  Please don't send any commercially available pictures as we don't want to fall foul of any copyright issues.
HUNT THE NUNS!!
Continuing for 2023, we have our challenge for the children to take part in! There are 8 little nuns dotted around the museum, the challenge is to find them, write down their names (pencil and clipboard are provided), then once you have all the names, their first initials will rearrange to make the name of a very important person to do with the history of the Gatehouse! This is included in the standard admission fee for children should they wish to take part.  
We are still proudly participating in the Kent based Wheels of Time scheme, with e-badges available for those wishing to explore other sites. More information on this can be seen HERE.  We look forward to seeing you!!
If you would like to see a sneak peek of the museum, Historic Swale have kindly produced a short video that allows you to take a look.  Use this link to go to the YouTube channel and take a look at their work so far.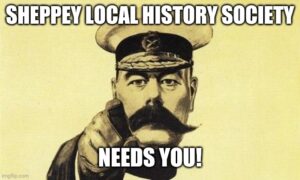 Sheppey Local History Society is always looking for new members, please click here more information!
Wheels of Time news!
The Wheels of Time scheme is now online.  Multiple meetings and tests have been carried out and the system is in full operation, please click here for information on how to take part in this online version of the popular scheme.
Stay Safe
Best wishes 
The Gatehouse Volunteers 
Please visit TripAdvisor and let us know what you thought of your visit!